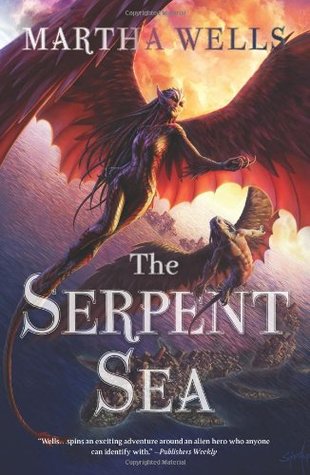 The Serpent Sea by Martha Wells. ★★★★
The Serpent Sea is the sequel to The Cloud Roads, which you should probably read first as an introduction to Wells' characters and world.
In The Cloud Roads, the court of Indigo Cloud set off to find their ancestral home. In The Serpent Sea, they've found it, a giant mountain tree more than capable of housing the entire court. Unfortunately, the heart seed of the tree has been stolen, leaving it rotting out slowly from the inside. Moon, Jade, and a few others will have to travel all the way to the Serpent Sea to retrieve the heart seed.
The Serpent Sea had a slow start and didn't really pick up until Moon and the others were actually at the Serpent Sea and going after the seed. Once they found the moving islands seen on the cover, I was hooked.
By far the best thing about the series is the vivid, imaginative world Wells has created. It's fantastical, alien, and often beautiful. The setting is breathtaking, and Wells populates it with a wide variety of otherworldly creatures, such as the Raksura, the protagonists. The Raksura are human enough in their thoughts and feelings to be relatable, but these scaled shapeshifters have a very different biology and social system that reminds me more of bees than anything else.
Moon's still trying to fit into Court life and feel like he belongs. He can't quite get over his past as a permanent outsider, and he's completely baffled as to the customs of the court and what's expected of him.
Characterization sometimes felt a bit thin. There were so many different Raksura that it could be hard to keep track of all of them. I felt like I had a good handle on who Moon, Jade, Stone, Pearl, and Chime were, but I had difficulty remembering all the others.
I will most certainly be returning to the world of the Raksura, and I'd recommend this series to anyone looking for highly original fantasy.