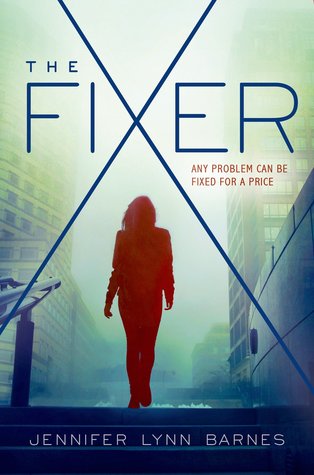 The Fixer by Jennifer Lynn Barnes. ★★★★
The Fixer is a fast paced YA political thriller that's like Scandal meets Veronica Mars.
Sixteen-year-old Tess has spent almost her entire life on her grandfather's ranch in Montana, when her older sister changes everything by insisting that Tess move to Washington, D.C. with her. Tess soon realizes that her sister is a "fixer," someone the D.C. elite use to solve their problems. The students at Tess's high school, Hardwicke Academy, know all about Tess's sister Ivy, and they're convinced that Tess is a fixer too. When a conspiracy surfaces, Tess becomes the one who stands at the center of the investigation.
The Fixer is a very plot based novel, full of twists and turns. There were a couple twists that I predicted, but there were a few others that I found utterly surprising. Barns does an excellent job ramping up the tension and keeping me fixed to the page. It helps that The Fixer is short enough that I was able to read it in roughly three hours, start to finish.
I thought Tessa was an all right protagonist. She has plenty of good qualities and actively drives the story, but I still feel like I'll probably forget her. I feel like I'm looking through her and not at her, and she doesn't have the very distinctive voice that can make me love a first person protagonist.
Barnes did do a fairly good job on the secondary characters. Tess has various friends at Hardwicke and they all felt distinctive. I never forgot who someone was or mixed up characters.
I was also happy to find that Fixer is one of the rare few YA novels that does not include romance. Seriously, there's no romance at all. Tess is focused on her friends, family, and a political conspiracy, not romantic love. This was so refreshing.
I would recommend The Fixer to anyone looking for an enjoyable, plot based YA book. It was a load of fun to read, and I highly recommend it.