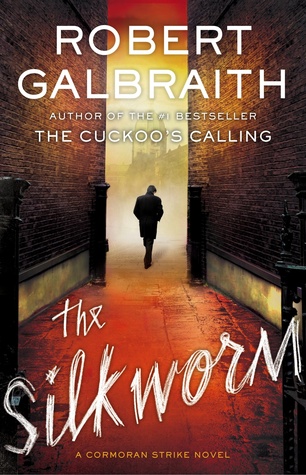 The Silkworm by Robert Galbraith. ★★★1/2
The Silkworm was an engrossing, slow burn mystery novel. It's the second in Rowling's Cormoran Strike mystery series, but I don't think you need to have read the first.
The novel starts with a woman appearing in Strike's office, asking him to find her husband, the novelist Owen Quine. It turns out that Quine's newest book contains horrible portrayals of many of the different people in his life. When Quine's body is discovered, there's no lack of suspects.
As you can probably guess by the description, The Silkworm deals heavily with London's publishing circles, which makes me wonder how much Rowling is drawing on her own experience to create the backstabbing world of The Silkworm.
"If you want a lifetime of temporary alliances with peers who will glory in your every failure, write novels."
Many of the characters of The Silkworm are deeply flawed (this is a murder mystery after all), and Rowling does a good job of making the different suspects memorable. Robin doesn't get as large a role as I would have hoped, but there's reasons to think that she's moving towards more detective work. I also get the feeling that the series is moving towards a romantic relationship between Robin and Strike, and I really don't want this to happen. However, given the presentation of Robin's finance as jealous of Strike and an impediment to Robin's desires to do detective work, I think it's more than likely.
It was also sort of annoying how attractive woman kept throwing themselves at Strike. The book continually describes how he's physically unattractive, and then there's numerous women trying to get in bed with him?
I'd recommend The Silkworm to people looking for a slow burn mystery. Don't expect it to be anything like Harry Potter.