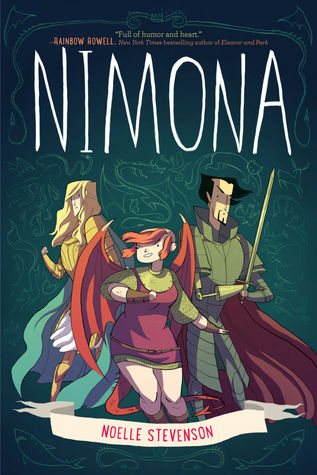 Nimona by Noelle Stevenson. ★★★★
Nimona is a very cute YA graphic novel that exists somewhere between the boundaries between science fiction and fantasy.
From the blurb: "Nimona is an impulsive young shapeshifter with a knack for villainy. Lord Ballister Blackheart is a villain with a vendetta. As sidekick and supervillain, Nimona and Lord Blackheart are about to wreak some serious havoc. Their mission: prove to the kingdom that Sir Ambrosius Goldenloin and his buddies at the Institution of Law Enforcement and Heroics aren't the heroes everyone thinks they are.
But as small acts of mischief escalate into a vicious battle, Lord Blackheart realizes that Nimona's powers are as murky and mysterious as her past. And her unpredictable wild side might be more dangerous than he is willing to admit."
I really loved the art and design work. The point with artwork for comics isn't to be hyper realistic but to use a style that complements the story. It's bright and colorful and full of character!
The world contained all the tropes of fantasy – lords and ladies, knights and swords, kings, tournaments, dragons… but also TV news, refrigerators, and futuristic science fiction devices. It was wonderful.
The characters are also very enjoyable. Ballister Blackheart was a hero forced into the role of a villain, Nimona a chaotic and fierce girl, and Ambrosius Goldenloin surprisingly more than a dimwitted "golden boy" hero. It's a story that questions who's the villain and who's the hero, full of complex and complicated people. The relationship between Blackheart and Nimona was at the center of the story and had a father daughter feel that reminded me of Despicable Me. It was all very cute.
I'd highly recommend Nimona for anyone looking for a funny and well written graphic novel.