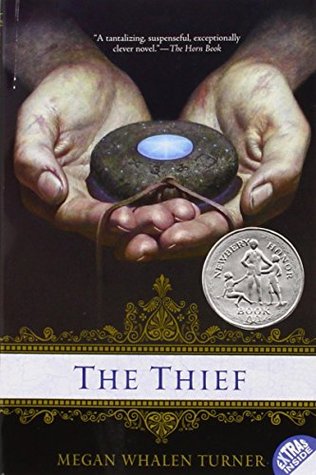 The Thief by Megan Whalen Turner. ★★★ 1/2
Overall, I found The Thief an enjoyable light read. It's quick (I read it in under a day) and entertaining.
From the back: "The king's scholar, the magus, believes he knows the site of an ancient treasure. To attain it for his king, he needs a skillful thief, and he selects Gen from the king's prison. The magus is interested only in the thief's abilities."
The Thief is excellently written. Turner's word craft is deliberate and effective. This book should be used as an example for the fact that young adult literature does not mean "badly written."
"All of my own impulses to balance and move seemed to conflict with those of the guards, and I was jerked and jostled down the portico, just as graceful as a sick cat."
The most interesting thing about The Thief is Gen, it's unreliable narrator. His voice is never tiring or bland, and he remains witty throughout. Gen is intelligent and complicated, often holding back as much as he reveals, making for a nice plot twist at the end.
The biggest flaw of The Thief is that the majority of it is spent traveling from Point A to Point B, which became dull in places. Interspersed through these parts where some "stories within a story," myths of the gods and heroes. At first, these did not seem to have any purpose besides to add cultural background and world building at the expense of slowing down the story. However, as the book progressed these stories became highly relevant.
Also, there were hardly any female characters in The Thief. I'd heard this going in, along with the fact that the sequels are apparently better in this regard. It didn't stop me from enjoying The Thief, but I hope the woman who shows up at the end of the book has a larger role in the sequels.
I'd recommend The Thief for people looking for a quick and entertaining fantasy read.