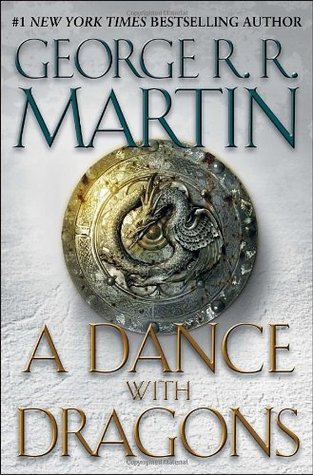 A Dance with Dragons by George R.R. Martin. ★★★★
A Dance with Dragons is the fifth book in the Song of Ice and Fire series, and you really need to start with the first book, Game of Thrones, and read them all in order. Trust me, you'll be completely lost otherwise. If you've been through the first few books, you should know by now that this series is R rated and full of trigger warnings.
A Dance with Dragons fills in what the characters missing from A Feast for Crows were up to and continues to overall story a little past that. But while events may have advanced a tad, it feels like they've hardly moved at all from previous books. Ultimately, it felt like it was just leading up to the next book, and there wasn't even really a climax to the book – there were a bunch of cliffhangers instead.
A Dance with Dragons is so packed with characters that some's story lines are barely or not at all furthered. Why do we even need all these POV characters? Many of them could easily have been cut either shorter or left out entirely. Tyrion's sections where full of him traveling from one place to another. While some useful information was learned here, his travelings could easily have been shortened. There was also, as usual, filler regarding the history of the world and the houses, much of which was not at all necessary.
Despite all that, I continue to care enough about the series. If there's one thing he's good at, it's pacing. A Dance with Dragons was gripping enough that I read this 1,000+ page monster of a book in one weekend.
I'm still not convinced that this series will maintain the quality of the previous books, but I think it's still worth reading on to find out.