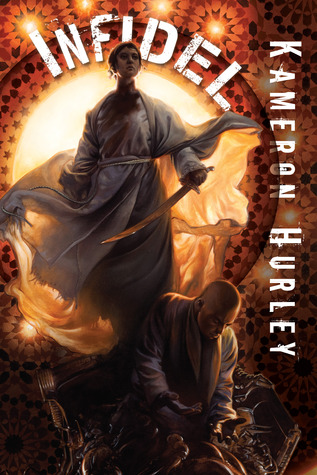 Infidel by Kameron Hurley. ★★★★
Infidel is the sequel to God's War and takes place six years after it. I recommend reading God's War first, but it is not unfeasible to read Infidel without having read God's War. However, you will have missed out on the world building introduced in the first book and may have difficulty catching up.
From the back cover: "Nyx is a bodyguard in Mustallah, the capital city of Nasheen. The centuries-long holy war between Nasheen and Chenja is taking its toll, with shortages and rationing causing the Queen to lose power and popularity. While protecting the daughter of a Ras Tiegan Diplomat, Nyx is attacked by a group of assassins… Caught up in a whirl-wind of intrigue involving Bel Dam Assassins plotting against the Queen, Nyx must learn who the rouge Bel Dam is… 
As with God's War, the plot is less important than the characters. While Nyx is undoubtedly the center of the story, Infidel is told through the viewpoints of three characters: Nyx, Rhys, and Inaya.
Nyx is my favorite of the three. She's still a world-weary anti heroine, but she's beginning to feel old. She's survived longer than most Bel Dames, but at times she almost seems to have a death wish. She's a complex and fascinating character and ultimately what makes me love this series so much.
"So what the hell's wrong with me?" Nyx eased off the marble slab.

"Besides your deviant moral flexibility and severe phobia of emotional commitment?" Yahfia asked.

"I consider those virtues," Nyx said.
Rhys and Inaya have both made new lives for themselves, and I found it interesting to see how they'd changed over the course of six years. I may not love them as much as Nyx, but that's not to fault them – they are both well written characters.
I think the writing's improved from the first book. I found Infidel easier to follow, both in terms of the plot and the general writing style.
I don't have much more to add – if you liked God's War, you should enjoy Infidel, which manages to stand strong despite being the second book in the trilogy.