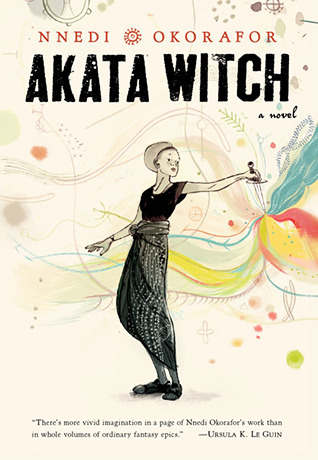 Akata Witch by Nnedi Okorafor. ★★★
While I found Akata Witch fun, I felt like I was the wrong age for it. It's really more middle grade than YA. If I'd read this back when I was in middle school, I would likely have enjoyed it a lot more.
From the cover: Twelve-year-old Sunny lives in Nigeria, but she was born American. Her features are African, but she's albino. She's a terrific athlete, but can't go out into the sun to play soccer. There seems to be no place where she fits. And then she discovers something amazing—she is a "free agent," with latent magical power. Soon she's part of a quartet of magic students, studying the visible and invisible, learning to change reality. But will it be enough to help them when they are asked to catch a career criminal who knows magic too?
The writing of the prologue was beautiful, and I wish that the rest of the book had stayed with that first person style. Not that the writing of the rest was bad – I didn't have any problems with it – but I think the prologue had the best writing.
In a lot of ways,  I would compare Akata Witch to the first Harry Potter book. Both are aimed at the same age group and share a general story type: preteen discovers secret magic powers and becomes part of a magical community. Of course, the Harry Potter books are about a white British boy, while Akata Witch is about a Nigerian-American albino girl. That alone sets it out from many of the similar types of stories.
The focus is more on Sunny discovering her own powers and learning about the magical community than on the plot mentioned in the last sentence of the blurb. In fact, that entire plot really only took a chapter or two at the end.
Sunny deals with sexism at numerous points in the book. She always questions it or challenges it, and I'm glad Okorafor took that approach.
In general, Akata Witch is an enjoyable and imaginative book that I'd recommend to people looking for a middle grade fantasy book, especially one with diverse characters and setting.