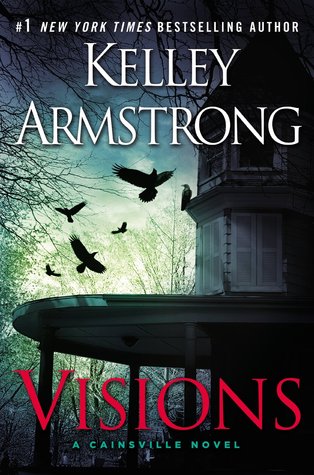 Visions by Kelley Armstrong. ★★★1/2
Visions is the sequel to Omens, and unfortunately I didn't like it as much as its predecessor.
Visions continues almost directly from where Omens left off. However, it does not focus on her investigation of her parents case. Instead, as the back blurb says:
"Olivia finds a dead woman in her car, dressed to look like her, but the body vanishes before anyone else sees it. Olivia's convinced it's another omen, a sign of impending danger. But then she learns that a troubled young woman went missing just days ago—the same woman Olivia found dead in her car. Someone has gone to great lengths to kill and leave this young woman as a warning. But why? And what role has her new home played in this disturbing murder?"
This plot was not as interesting as it should have been, perhaps because the increased romance has warped the focus. Particularly in the beginning, the romantic drama explodes – out of no where given the lack of it in the first book. There is now two (or at times three) love interests, all of which seem like different varieties of the Alpha Male Love Interest.
I am generally not interested in love triangles, and this one is particularly boring because it's clear as day who Olivia's going to end up with.
On the plus side, more was revealed about Cainsville and the fantastical elements increased. It now is more urban fantasy than paranormal, with an emphasis on the fae and Celtic mythology. I also like the characters and their development.
On the audio aspects, the Audible version had two different narrators – one for Oliva's sections and one for the third person perspectives from the other characters. In the beginning, I found Olivia's narrator's voice nasal and annoying, but I adjusted to it latter in. Everything else was fine.
I'd recommend this one to fans of the first book, but they should know that the romance increases substantially. I will probably read the third book when it comes out, but I won't be rushing to get a hold of it.