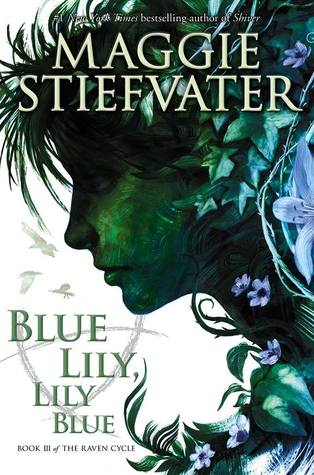 Blue Lily, Lily Blue by Maggie Stiefvater. ★★★★★
Confession – I finished this in one sitting on the day it came out. I've been hesitating to write a review since because I sincerely don't know how to capture all the things I love about this book and series.
First of all, Blue Lily, Lily Blue is the third book in Maggie Stiefvater's Raven Cycle. This series has many twists and turns, and it's imperative that they're read in order. The first book is The Raven Boys and the second is The Dream Thieves. This review will contain spoilers for the first two in the series, so be forewarned.
The worst thing about Blue Lily, Lily Blue? The title, certainly. Everything else is practically perfect.
At the end of The Dream Thieves, Maura went missing. Blue, the Raven Boys, and the psychics of 300 Fox Way are obviously worried and start looking for her. But they've also learned that there's more than one sleeper hidden in Cabeswater's magic. There's one to wake, one not to wake, and one in between…
One of the biggest questions I had going in was what would happen with Ronan. After the reveals with his character, I was eager to see what would happen with him (and with Adam…). Unfortunately, he does not have any POV sections in Blue Lily, Lily Blue (probably the second worst thing). On her blog, Maggie Stiefvater's said that this is because Ronan's sections tend to be overpowering, which does make sense. As a result, in this book he is mainly seen through Adam's POV. I don't want to spoil any aspects of the book but, I will say this… I don't think the situation is completely hopeless.
In the review of The Raven Boys, I noted that Blue didn't seem as appealing as some of the other characters. Reflecting on it some more, I think it was because before Blue Lily, Lily Blue she didn't having the same sense as "wanting" as the others. However, this book explores Blue's character more deeply than before. There's one particular scene, when she's sitting in the school counselor's office, that really spoke to me. Turns out, Blue does have that feel of "wanting," but she's buried it deep down inside her because she believes her dreams are impossible.
Blue Lily, Lily Blue is leading up to the fourth and final book. Answers regarding Cabeswater finally seem to be arriving. Events are happening in quick succession, and the quest for Glendower is getting even more dangerous than before.
I'm opening the comments section up to spoilers if anyone would like to discuss the book.