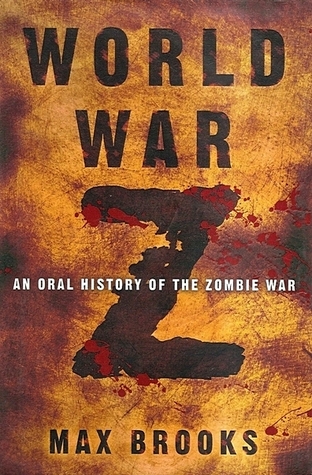 World War Z by Max Brooks. ★★★★
I'm not normally a fan of zombie books, but I really enjoyed World War Z. I got completely sucked in and ended up reading all of this in around twenty-four hours.
For those who don't know, World War Z is written in the form of interviews recorded for a UN report about twelve years after the victory against the zombies.
What I liked about World War Z was how it looked at the entire world and how many different cultures might react. Rather than getting one story of a lone group of survivors fighting of the undead, we get a tapestry of international tales that work together to portray the war.
One of my usual problems with zombie books is that they feel hopeless. To often, there's this feeling that nothing can be done, that eventual death is inevitable. Since World War Z is framed as being written after the zombies are defeated, it managed to avoid the feel of hopelessness, even when the events were grim.
I'd say that my least favorite parts where the military sections, except possibly for the pilot who goes down in zombie infected territory. They tended to feel similar and didn't have as much of the "human element" as the others. Plus, I'm not into military jargon.
In terms of how much "horror" it is, I didn't feel that freaked out while I was reading it. The pace was fast and it was certainly suspenseful, but I wasn't getting goosebumps (okay, the cannibals part might be the exception). However, when I tried to go to sleep that night, I did have trouble getting my mind off zombies.
I've heard that the audio book version is wonderful – apparently, there's a full cast of voice actors to read all the different sections which would fit in so well with the book being recorded interviews! I don't know if I want to listen to it after I've already read the book, but I'd suggest anyone interested in World War Z consider an audio version.
World War Z seems very successful of breaking beyond the normal audience for zombie books; my mom snatched up my copy as soon as I was finished and seems to be enjoying it so far, and the book club has had positive things to say about this one too. If you absolutely hate zombies, it probably isn't for you, but if you just find them boring or generally disagreeable, you might want to consider World War Z anyway due to it's unique perspective.