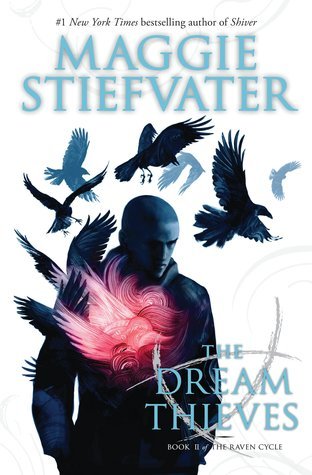 The Dream Thieves by Maggie Stiefvater. ★★★★★
This is the second book in The Raven Cycle, which starts with The Raven Boys. You really need to read the first book before going into The Dream Thieves. I'm also going to be talking about spoilers from The Raven Boys, so please head over to its review (linked above) if you haven't read it.
At the time I'm writing this review, I've The Dream Thieves twice. Honestly, I love it even more than the first book.
After the events of the first book, the ley lines have been opened, but they're flickering on and off, causing power outs all over town.
Meanwhile, some strangers are in town looking for the Greywarren, an "object" that can pull things from dreams. Among them is the Grey Man, a nameless hit man with a hole in his heart.
The boys themselves are being drawn in different directions. Adam's dealing with the fall out of his sacrifice and the new changes in his life. Noah's disappearing constantly whenever the ley line runs out of juice. Ronan's confronting his inner demons, and Gansey's desperately trying to keep them all together.
While many different things happen in The Dream Thieves, it is very much Ronan Lynch's story. Going in for the first time, I hadn't thought much about Ronan. While he obviously had secrets (the reveal regarding Chainsaw at the end of Raven Boys, the mystery with his father), he himself never had narrating sections, and I was always half worried that he'd slip into the trap of being the stereotypical "bad boy" character. Then, I read The Dream Thieves. When I finished, Ronan had become my undisputed favorite character.
The prologue of The Dream Thieves is all about secrets, of which there are three kinds: the sort everyone knows, the sort you keep from yourself, and the sort that no one knows exists. Ronan Lynch has every type of secret, and through the course of the book, he comes to learn them all. He also has to confront himself and the literal nightmares inside his head.
If this pattern continues, I cannot imagine how wonderful the third book will be.