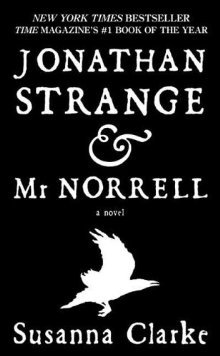 Jonathan Strange & Mr Norrell by Susanna Clarke. ★★★★
In 1806 magic is believed to be dead in England until a society of theoretical magicians uncovers Mr. Norrell, the first practicing magician of hundreds of years. Mr. Norrell is firmly in the public eye when another magician, Mr. Strange, emerges to become his student. Together, these very different magicians are tasked with returning magic to England.
That is a very rough description of a 1000 page book. Truthfully, there's a whole lot more going on but to say too much would be leading me into giving away spoilers.
As already mentioned, this is a very long book. In fact, it's divided into three books, each named after the important magicians in the story (Strange, Norrell, and the long ago Raven King). A warning here – Jonathan Strange & Mr Norrell  is slowly paced and slow burning. The action and pace don't pick up until the climax in the last hundred pages or so.
So why, might you ask, would I read a book with 900 pages of build up? Because that build up is so enjoyable. Susanna Clarke is an excellent writer (she's using the style of classic nineteenth century authors), and her writing is not without humor. I was not at all expecting it, but often I would laugh out load upon reading a line. Take this quote for instance:
"Houses, like people, are apt to become rather eccentric if left too much on their own; this house was the architectural equivalent of an old gentleman in a worn dressing-gown and torn slippers, who got up and went to bed at odd times of day, and who kept up a continual conversation with friends no one else could see."
I love the footnotes as well. Sometimes they're just explaining a reference to a magical text, but often they are stories within a story, like the fairy tale about the Master of Nottingham's daughter and her quest to retrieve the magic ring. Other times she uses footnotes (as well as in text commentary) to skewer the prejudices of the age. There's a certain irony in that Strange and Norrell are acceptable magicians because they are gentlemen, even though others such as Childermass would probably make just as good or better magicians.
If you pick this one up, you've got to have at least some interest in history or a liking of classic English writing like Jane Austin. If you're looking for the usual action adventure, medieval world type fantasy, Jonathan Strange and Mr Norrell is not for you. If you're looking for something different, an original fantasy book, than this is the book for you.