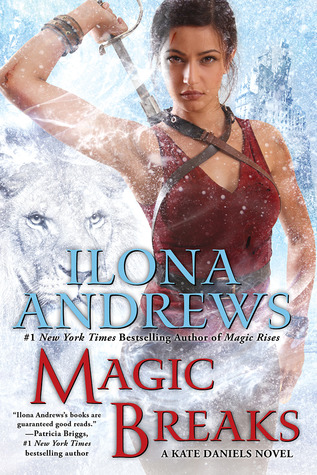 Magic Breaks by Ilona Andrews. ★★★★★
Please note that this is the seventh book in the Kate Daniels series. Unfortunately, I have not yet gotten around to writing reviews of the other six. To sum up the series in general, it's a female lead urban fantasy that takes place in post magic apocalypse type Atlanta. There tends to be both a mystery and romantic element, and mythology will usually come into play at some point. The series is fun, snarky in places and usually fast reads. There are a number of female characters, mostly competent. Kate herself is a badass.
Magic Breaks is what the previous six have been leading up to; it's the closure of the story arc, even though more books will be written, possibly following other characters. While I think some fans may be disappointed by the unusual turn the ending takes, I personally loved it. Magic Breaks is in the running with Magic Strikes as my favorite Kate Daniels.
Magic Breaks delivers everything that I've come to expect from a Kate Daniels novel: original world building, funny lines, plenty of action, and lovable characters. While some characters don't get as much screen time as I'd wish, I liked the decision to flesh out Robert, the were-rat alpha, and to have more scenes with Gastek, whom I've always been intrigued by. Desendra, the werewolf introduced last book, was also a nice addition. I still really would have liked to see more of Andrea though. She was hardly in the last book, so it would have been nice to see some more of her.
I didn't see the ending coming, but it fits within Kate's character arc and is a workable solution. I also found it a lot more original and interesting than what was largely expected.
There's not a whole lot more I can say without delving into massive spoilers, but suffice to say that I found Magic Breaks a satisfying conclusion of the arc. It's an end to one story but still promises more stories to come. Anyone who's looking for a fun urban fantasy series should really check out the Kate Daniels series.