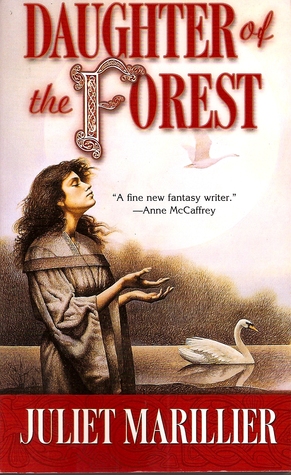 Daughter of the Forest by Juliet Marillier. ★★★★★ (Trigger Warning)

Daughter of the Forest, a retelling of The Swan Brothers, is both wondrous and heartbreaking. Of all the fairy tale retelling's I've read, it's among the very best.
Sorcha's the only daughter of Lord Colum, a lord in dark ages Ireland. She and her six older brothers grow up happy and wild, learning the secrets of the forest that surrounds them, until her father brings home a new wife, who turns her older brothers into swans. The only way for Sorcha to save them is by making six shirts of thorns, remaining completely silent all the while. Through the greatest suffering and tragedy, Sorcha may not cry out.
In the past, the greatest struggle for me with retellings of this tale is that it's hard to distinguish the six brothers and make the reader care about them. Daughter of the Forest, perhaps helped in part by its length, succeeded brilliantly at this. Within the first hundred pages, I knew and loved each brother. Fimbar in particular was my favorite, but Conor came in a close second.
Of course, the brothers pale in comparision to Sorcha herself, the heart and soul of the story. She's the narrator and our view on the events. She's the one who's struggling. She's the one on whom everything rides. Under all this pressure and all the suffering she undergoes, Sorcha remains strong. She sticks to her task and is able to heal herself. She's one of the most admirable heroines I've come across, and she should be the benchmark for anyone writing strong female characters in historical fantasy or sexist fantasy world.
This is not an easy book to read. After the somewhat idelic beginning, it gets quite dark. Be warned that there's a rape scene in the middle of the book and that it effects Sorcha's physical and mental health for the rest of the story. Even the ending is bittersweet.
(SPOILERS – When Sorcha frees her brothers, they have all been profoundly effected and cannot go back to normal. Her brothers also don't seem to realize that she's changed and grown as a person and continue to treat her like the little girl she was in the beginning. END SPOILERS)
Don't read Daughter of the Forest unless you're willing to cry, but if you'll willing to take it on, you will find a beautifully written tale of one girl's triumph over adversity.