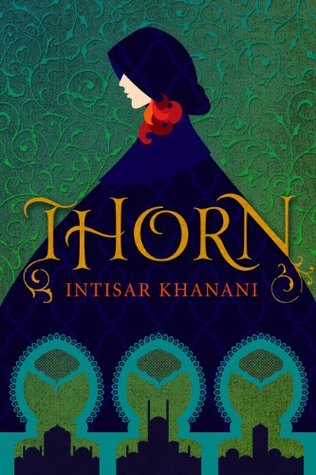 Thorn by Intisar Khanani. ★★★★

Thorn is a retelling of "The Goose Girl," a fairy tale by the Brothers Grimm. In short, a widowed queen arranges for her daughter to marry a prince of a far off country. She gives her daughter a charm to protect her, but along the way, the girl's treacherous maid steals the charm and impersonates the princess. When they arrive at the palace, the true princess is forced into becoming a goose girl.
In this version, Princess Alyrra is the protagonist. At the start of the story, she's living in an isolated mountain kingdom under the control of her violent and abusive brother while her mother knowingly lets it happen. She's isolated and friendless, and I was worried that she'd spend the entire story being victimized until she was rescued by the eventual love interest.
I was wrong. Alyrra's a very strong character. She's a survivor and very brave. Although the book is dark in places and her life not happy, she keeps her head up and perseveres with her kindness, honesty and courage.
The writing is excellent – I had no quibbles with it, and the setting fairly traditional. I would have liked to see some more originality and development to the world building, but it served it's purpose to the story.
Thorn's take on the fairy tale involved an ancient sorceress who was slowly destroying everyone in the family of Alyrra's betrothed. This sorcerress switches Alyrra's and the maid's bodies and bounds Alyrra to silence in return for the eventual betrayol of the prince by the maid.
There is a romance plot, but it stayed restrained and never dominated Alyrra's story. It was very much unlike the normal gushing and obsessing that you find in young adult books. I was annoyed with one detail. Skip the rest of this paragraph if you don't want spoilers. The original fairy tale has the princess able to talk to the wind, and Alyrra does speak to the wind in this story. However, it turns out that the wind is being sent by the prince, who has magic powers. So, Alyrra doesn't actually have any magical abilities, which sucks. Instead, they get given to the prince.
On the whole, I found this story very enjoyable, and it may be something that I'll eventually want to reread. I'd recommend it for anyone interested in fairy tale retellings or fantasy books with strong female protagonists.