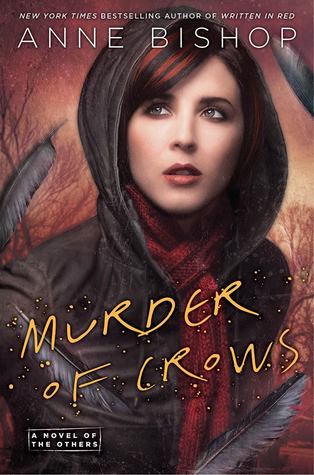 Murder of Crows by Anne Bishop. ★★★★
Narration by Alexandra Harris. ★★★
This is the second book in Anne Bishop's Other series. The plot description isn't too different from the first book, Written in Red. Meg continues to become more and more part of the Lakeside Courtyard. She continues to have visions when her skin is cut. Tension continues to grow between the humans and the Other. Simon and Meg's relationship continues to develop at a glacial rate, which is actually a nice change from the vast majority of romance plots in urban fantasy.
If you liked the first book, you'll probably like this book. The feel and tone is the same, and there's no new directions taken. Actually, more of the same is a fairly accurate description. I would have liked to see more of Sam because werewolf puppies are the cutest thing in existence, and the plot moves at a steady pace but doesn't race along. It's definitely a character based story.
I was expecting for the Controller to make a greater effort to get Meg back. There was a thread of that being built up, but it was disappointingly anti-climatic when it came.
As I mentioned before, I like how slowly the romance plot is moving. Based on the events from the last book, Meg and Simon have become friends. It's pretty obvious where the relationship is heading, and even one of the other viewpoint characters remarks on it.
As with the last book, how much you like it largely depends on your reaction to Meg. She's not an action girl or snarky or sarcastic – she's a sweet character who's frightened of mice and who's determined to make her own choices in life. She escaped from a terrible situation and is still coping with how to live day to day. I really liked her for how sweet and kind she is, and I found it believable how many other characters liked her too.
The audio narration was decent. The narrator did a good job of separating out different speakers, and I was only confused once or twice. If you're thinking about reading this series but decide you want to listen to it instead, the narration isn't anything you have to worry about.