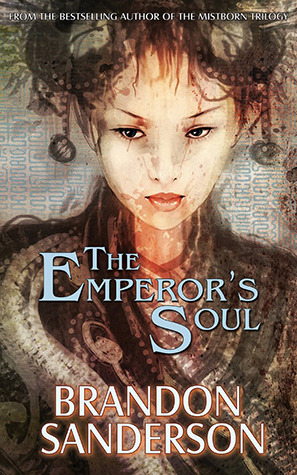 The Emperor's Soul by Brandon Sanderson. ★★★★★
It wasn't what I've come to expect from Brandon Sanderson – namely, it was short. It's a 175 page novella that takes under two hours to read. And it's wonderful.
The premises of the story is that the emperor suffered a blow to the head and heavy brain damage. He's alive and perfectly healthy, except basically in a coma.
Enter Shai. She's an amazingly gifted thief and Forger who's been caught and condemned to die. But instead, she's offered an opportunity. She can save herself by crafting a new soul for the emperor.

This is what's so great about the story. To craft his soul, Shai must well and truly understand him, probably even better than he understood himself. She must also deal with those who question the value of her art – is she truly creating? Or is she merely copying?
All in all, it's an amazing story, especially for one so short. In just 175 pages, Sanderson is able to create a world complete with an original magic system (of course!) and a cast (albeit limited) of vivid characters. Shai's got to be one of my favorite Sanderson characters. There's an emotional depth to her that I don't always feel with the others.
If you're going to pick up one book by Brandon Sanderson, this should be it.