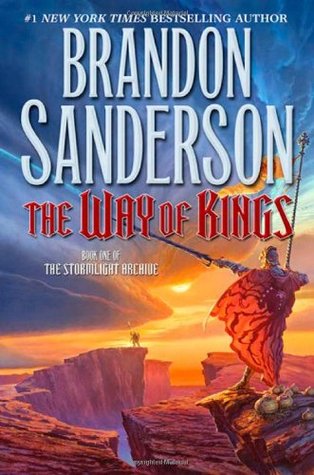 The Way of Kings by Brandon Sanderson. ★★★★
The cover blurb sums up the plot pretty well, so I'll just quote it here before I get to the review section:
"Roshar is a world of stone and storms. Uncanny tempests of incredible power sweep across the rocky terrain so frequently that they have shaped ecology and civilization alike. Animals hide in shells, trees pull in branches, and grass retracts into the soiless ground. Cities are built only where the topography offers shelter.
It has been centuries since the fall of the ten consecrated orders known as the Knights Radiant, but their Shardblades and Shardplate remain: mystical swords and suits of armor that transform ordinary men into near-invincible warriors. Men trade kingdoms for Shardblades. Wars were fought for them, and won by them.

One such war rages on a ruined landscape called the Shattered Plains. There, Kaladin, who traded his medical apprenticeship for a spear to protect his little brother, has been reduced to slavery. In a war that makes no sense, where ten armies fight separately against a single foe, he struggles to save his men and to fathom the leaders who consider them expendable."
My main issue with The Way of Kings is the same one I had with The Lies of Locke Lamora and co. It's unnecessarily long and has too many flashbacks which throw off pacing. The third prologue? The countless descriptions of Kaladin's childhood? Some of the interludes? All could go. What this book needs is to be honed and sharpened. It's begging for an editor's knife to take out some of the flab.
As other reviewers have pointed out, things don't really start coming together until page 800 or so. And even by the end of the book, the main characters haven't all converged or interacted. But at least they've been set on the path for the next book.
Speaking of the next book, this is supposed to be the first in a ten book series. So much felt like it was building up for the books to come. Other reviewers have said that this book stands on it's own, but I don't agree. Yes, it ended with a few major revelations instead of a cliffhanger, but there are still so many of questions that are left unanswered and so many things just about to occur. WoK had the feel of the start of an avalanche, but it was only in the last few hundred pages that the avalanche started to gain momentum.
If you're considering picking up WoK, it might be a good idea to wait. Wait until more of the series has been written, so you won't have to keep the details of the world and plot in your mind before the next book comes out. Plus, then you'd have something tangible ahead of you. But be warned – if you do pick it up, you will be hopelessly immersed in an addictive and breathtaking world.
Multitudes of characters make up WoK, but the three most important are Shallan, Dalinar, and Kaladin. Shallan is an artistic young noblewoman with a dreadful secret and dire quest ahead of her. Dalinar is the older warrior, uncle to the king, and is struggling with some new revelations. Kaladin is a slave who daily has to risk his life battle.
Kaladin was my favorite of part one, probably because he was in a much worse situation than Shallan (Dalinar is not introduced until later in the book). Shallan's trouble was months away, Kaladin's was with him every day. That being said, I noticed some similarities between Kaladin and Raoden from Elantis. Both struggle to bring hope and humanity back to people at their lowest. Both have a sense of optimism. Both seem to be the hero who will Do The Right Thing.
The world building is phenomenal but can be hard to wrap my head around. For one thing, there's the sheer strangeness of the land and creatures. Grass that retreats into holes in the rock, and crustaceans taking the place of cattle? What illustrations present help, but I think the book could use some more of them.
On the whole, I really enjoyed The Way of Kings and I would recommend it. It's yet another book that glued my eyes to the page and had me staying up far too late!
Now, onto discussing the cover.
This is the cover art by Michael Whelan – isn't it beautiful? Those colors are just astounding. If that weren't enough, some of the other cover versions are similarly stunning. Check out the Chinese cover art by Jian Guo: